Fiorano Announces Platform 10:
B2B Integration, SWIFT Connectivity to Augment ESB Stack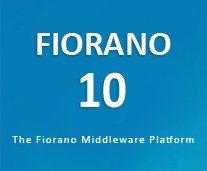 PALO ALTO, Calif., Sep 24, 2013. Fiorano Software, a leading provider of enterprise integration and messaging infrastructure technology, today announced general availability of the Fiorano Platform version 10 (Fiorano 10), realizing its vision in providing best-in-class enterprise integration solution.
Enterprises' application portfolios are increasing in complexity. With increased application functionality being deployed in the cloud and on mobile devices, enterprises are sharing more information than ever with external business partners. To support these evolving application integration needs, the new Fiorano 10 integration platform makes it easier for customers to create a next generation enterprise IT infrastructure that can extract value from their applications and adopt a federated organizational model.
"With an integrated set of new products and features aimed at covering a large spectrum of traditional and emerging integration requirements, the Fiorano 10 platform provides an opportunity for enterprises to create new competitive advantages based on integration. Fiorano 10 allows enterprises to focus on its most precious assets - their business processes and data, transforming fragmented applications, data, partners, suppliers and customers into core value by integrating into a single, high performing entity" said Atul Saini, CEO & CTO of Fiorano.
Fiorano 10 - A platform that can transform business into a new enterprise
Fiorano 10 makes integration even easier with the introduction of several new exciting features such as a comprehensive B2B Gateway, SWIFT Integration, enhanced functionality to the Fiorano ESB (Enterprise Service Bus) and new tools that improve developer and business productivity. Fiorano 10 platform components include:
Fiorano B2B: An enterprise-level Business to Business gateway for transacting business electronically with customers, trading partners and distributors across the globe.
Fiorano SWIFT Integration: This release adds support for SWIFT Standards which enables messaging services to banks, broker-dealers and investment managers as well as to market infrastructures in payments, treasury, securities, and trade.
Fiorano ESB: Built on a unique, peer-to-peer asynchronous architecture, this is the most advanced JMS 2.0 messaging-based ESB for enterprise application integration whether on-premise, in the cloud or in a hybrid on-premise/cloud architecture.
Fiorano Adapter Suite: With an exhaustive set of Adapters, Fiorano provides the key to enhanced interoperability to a wide variety of applications across multiple industries.
eStudio and Dashboard: A visual tool for the management of business processes, giving users a unified development experience. Dashboard is a web-based console that lets administrators monitor the state of the infrastructure from any location on the network.
About Fiorano
Founded in 1995, Fiorano has been a trusted provider of enterprise integration middleware, high performance messaging and distributed systems. Fiorano's innovative event-driven SOA platform integrates applications and complex technologies into an enterprise nervous system. Fiorano's hybrid Cloud-ESB integrates applications across SaaS, PaaS and on-premise worlds.
Global leaders including Federal Bank, Commercial Bank of Africa, NASA, US Coast Guard, POSCO, British Telecom, AT&T Labs, Vodafone and L'Oréal have deployed Fiorano's solutions to drive innovation through open, standards-based, event-driven SOA applications yielding unprecedented productivity.