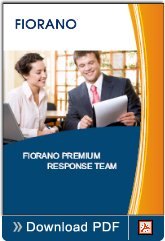 One of the key benefits of investing in Fiorano SOA Platform® or the Fiorano Cloud Platform® is the minimal need for ongoing consulting and training services as compared to other offerings. The ease-of-use and simplicity of Fiorano's software significantly contributes to the success of your project by having a quick learning curve, delivering returns faster and at a lower cost.
The Fiorano Professional Services Group offers comprehensive Training, Design, Architecture, Customization and Review services.
To get the best out of your investment, a basic training course is highly recommended so you can leverage our best practices and learn the nuances of the software that make change management so easy. This in turn, significantly reduces the need for provisioning expensive customization work.
Fiorano's professional services group consists of a rotating team of engineers who have experience as solution architects, core developers and sales engineers. This provides a pool of talent that can tailor the training or consulting service to provide the best value and return on investment to your Project.
Fiorano's approach to professional services is flexible – we partner with global and local System Integrators and other solution providers who are certified to carry out implementation and training. If you have a preferred partner/system integration vendor you already work with, we also have specific training programs that can work for them.
The Fiorano Professional Services Group offers the following services :
Training
Architectural Review
Implementation
Performance tuning
Upgrade services
Premium Support
Training
"Quick-Start" Training 3 Day Program
Fiorano provides initial formal training to development staff, operations staff and, where appropriate, end-users. A typical training course is for 3-5 days, since the product is easier to use than comparable offerings.
Initial training is covered at different phases of the implementation at various user levels including: Application Developers, solution designers (architects), process managers, and senior management personnel.
Fiorano personnel can also be made available for implementation and training for various user groups.
On-going /Maintenance Training
On-going training is provided for system maintenance and troubleshooting. Fiorano also provides training certifications to the participants upon successful completion of the training programs / courses offered by Fiorano.
Custom Training Courses
Specific, tailored courses can also be designed for different user levels on request.
Training Topics Covered
Fiorano's training programs are highly structured, yet flexible to accommodate specific customer requests for initial as well as on-going training. The basic areas / topics covered under various training programs include:
Fiorano SOA Platform® Architecture & Product Overview
Fiorano SOA Platform® Architecture
Fiorano SOA Platform® Component Model
Fiorano SOA Platform® Installation and configuration
Orchestrating Message-Driven SOA Applications
Overview/Concepts
Understanding Message-Driven SOA Applications
Sample applications
Hands on ?composing simple Message-Driven SOA applications
Pre-Built Services and Adapters
Using existing pre-built Services
Service/Adapter Development
Service installation
Application Development
Fiorano Cloud Platform
Introduction to the Fiorano Cloud Platform architecture
Getting Started
Understanding the Hybrid Integration Bus
Solution implementation environment related workshops
Business Problem/Requirements
Defining distributed message-flows
Identifying Services for implementation
Developing and testing custom services in different languages (Java, C, C++, C#, Scripts)
Developing and Testing distributed application
Application monitoring & maintenance
To learn more about our Professional Services or to get a proposal for a specific Project please Email us, we will contact you!